Trolleys help growers in hot climates deal with labor shortages The GreenTech show is the place to reveal to the horti world new solutions to make greenhouse cultivation more efficient. "Precimet produces logistics equipment for greenhouses," Barbara Gołowińska from Precimet says. The company is active worldwide. They serve EU and international customers through a network of dealers, agents, and business partners who look after end-users on site.
Barbara explains that Precimet comes up with their solutions after extensive conversations with growers. "Labor is becoming more expensive and harder to find, so growers are increasingly looking into automation," Barbara says. Implementing automation on the go, however, can be a particularly challenging endeavor, and at times it's outright impossible to do. "We were contacted by growers from hot countries such as Spain, Italy, and Greece, looking to use our trolleys in their operation." Because of the particularly favorable weather conditions, Barbara says that growers from those countries don't need to invest much in highly technological equipment. "This means that automated solutions like ours can actually be more easily implemented."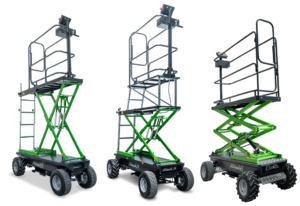 Settings where installation is easier 
When such greenhouses have been designed, the rows between the plants are usually thought out, taking only humans into consideration. Thus, adding new machinery can be particularly challenging. "Since growers from very hot countries don't utilize a lot of highly technological equipment, it's actually way easier to slightly change the cultivation layout so that our trolleys could easily move between rows."
Precimet then received other requests from growers: a higher trolley, a smaller and narrower trolley, and so on. "We are a manufacturing company, and we have our own engineer team that takes care of such requests," Barbara continues. It is exactly because of one of those requests that the company designed and manufactured Alltrack, a new greenhouse trolley they unveiled at the GreenTech fair in Amsterdam.
Rolling with the feedback 
The new trolley is specifically designed for hot-weather countries, has rubber wheels, and comes in different sizes and functionalities. "A grower asked us if we could make our trolley narrower so it would fit in their greenhouse, so we just did that. Another grower asked us if we could make it even smaller, and we did that too," she chuckles. Indeed, Alltrack-S and Alltrack-M have a wheel width of 75cm and 90cm, respectively. These two are operated with a manual mechanism for lifting. "This has allowed us to keep the price attractive, which ensures a greater number of growers will have access to our products," Barbara says. The last new trolley is the Alltrack-H, which has a wheel width of 90 cm. The platform can be lifted up to 3 meters thanks to the double scissor hydraulic mechanism for the lift. "This feature makes operating the trolley much easier, and it, of course, better suited for particularly large greenhouses," Barbara points out.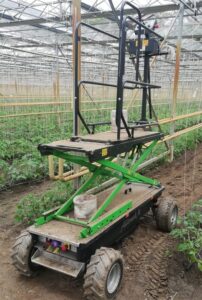 The struggle with labor and automation is something that the entire world of horticulture has in common. Precimet's trolleys are available internationally through a network of dealers that ensures that growers are always followed up on closely. "Because of the language barrier and physical distance with certain countries, initially we felt that we needed someone on-site that would know how to move in such context," Barbara says. "This has proved to be successful as our dealers take care of the client, while we support our dealers so that speed of service is guaranteed. At this point, I would like to thank the entire AGEON company – our Dealer in Italy, for its commitment to the development of our cooperation," Barbara says.
Link to the article: Hortidaily.com