Basic information
LM-03 – Manual mast with horizontal and vertical spraying is intended for efficient and homogeneous spraying of low greenhouse plants (flowers, herbs, lettuce, strawberries, tree and vegetable seedlings). Compared to the manual spraying method with usual nozzles, here we obtain an increase in spraying efficiency, an improvement in the quality and uniformity of plant cover, while reducing the consumption of chemicals.
Typical equipment includes 3 independent masts:
a) 1 mast with nozzles for the main spraying (Main spraying means spraying of the rows with plants. It can be done simultaneously on the right and left side of the row)
b) 1 mast with nozzles for additional spraying (Additional spraying means spraying the ends and beginnings of the cultivation rows with plants. Here, too, each pair of nozzles can be turned off or on)
c) 1 horizontal mast with top sprayers for low-growing plants
Each mast can be turned on and off independently of each other.
Each nozzle can be adjusted within a certain range of -15 degrees, 0 degrees, +15 degrees and each nozzle can be turned on or off from the spraying. This is a very important functionality.
Standard equipment includes an anti-drip valve, 2 types of nozzles (double flat fan nozzle and full cone nozzle).
Optionally, you can use the so-called extension for direct spraying under plant leaves.
Masts structure is entirely made of acid-resistant steel. The height-adjustable mast bracket allows for optimal adjustment of the spray height (range). Individually adjustable nozzles can be set in three positions. Each of them can be opened and closed separately.
The nozzles are made of a material resistant to chemicals, with ceramic inserts ensuring their durability.
For optimal results, we recommend the following parameters of the feed pump: pump capacity 36 l at 50 bar
The system of portable sprayers can be completed with wheels with a rim for heating pipe systems, solid rubber wheels or pneumatic wheels for use in open spaces (field crops). The track width can be easily adjusted to suit for different heating pipe systems (applies to rail pipe systems).
Possible execution on various wheels according to customer needs:
1. Solid pneumatic or foam wheels for flat ground surfaces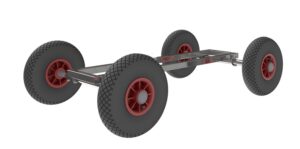 2. Hard polyurethane wheels (non-marking) for concrete surfaces
3. Plastic rolling hubs for driving on heating pipes