Precimet has produced mobile crop care trolleys since 1998. "Throughout the years we learned much about them," says Adam Nenczak, director at Precimet. All this knowledge has been used in the development of the Precilift, their new generation of greenhouse trolleys for crop care, maintenance, and service.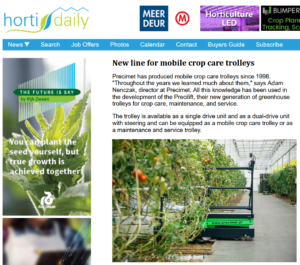 The trolley is available as a single drive unit and as a dual-drive unit with steering and can be equipped as a mobile crop care trolley or as a maintenance and service trolley.
With the P-series (the steerable trolley), the user can stay on the work platform while moving the trolley from the concrete path to the pipe rail system, and also when moving the trolley from path to path. "Use the joystick for steering and move your trolley very easily in the correct direction or location," shows Adam, who says the P-series is an ideal solution for inspection or maintenance. There's also a zero-turn model available, to turn the trolley around its own axis on a concrete floor
"We focus on the quality and reliability of mobile pipe rail trolleys to meet the customers' needs," Adam says. "Our new mobile pipe rail trolleys from the Precilift series are user-friendly." As an example, he shows how the work platform can be lifted and lowered smooth and fast with a soft start/stop. There's a wide entrance at the front and backside of the trolley and the anti-slip platform is equipped with a built-in, water-resistant, stainless steel footswitch. The maximum speed is 90m/min on the pipe rail system and the driving speed is automatically controlled at a specific platform height.
According to Adam, the trolleys are stable, have low maintenance costs, are robust and reliable, as the company is focused on high-quality components only. For example, the drive system has a drive unit with a maintenance-free gearbox, without a chain. The chassis has an extra operating panel integrated into it and is finished with rounded edges and a full traction battery. Optionally an IP67 battery charger can be integrated.
Link to the article: Hortidaily.com